Our Custom Power Systems are designed to meet your specific business and project requirements. Click through the tabs above to learn more about our design and production process! Continue scrolling down to see our turnkey solar, battery backup, and hybrid system solutions. Questions? Chat,
Call
, or
Contact Us
.
Our Power Ready Express systems are standard and available off the shelf to ensure parts are available to ship to you quickly. Designed with our modular building blocks for performance, speed, and ease of installation. Great for most applications with loads under 200W.
SunWize Power Ready Systems are stand-alone off-grid solar power systems that provide continuous and reliable power to remote site loads.
Unlike our Power Ready Express, which have limited customization options, our Power Ready systems are designed to your exact requirements. This includes electrical specifications, enclosure selection, and solar array structure (pole-mounted, ground-mounted, skids, trailers).
Class 1 Division 2 (C1D2) and PE stamped drawing solutions available.
SunWize Power Online systems are outdoor or indoor rated battery backup systems that convert AC power to charge 12, 24, or 48VDC battery banks. Systems are designed for your required autonomy, charging specifications, inverter capacity, load voltage, and form factor.
Keep your critical equipment running when your primary power source (grid, generator) goes down. Solutions range from small pole-mounted systems with din-rail mounted power supplies to large ground-mounted systems with many kW of stacked inverters and battery chargers.
SunWize Power Stations are complete, integrated solar systems designed for 12/24/48VDC or 110V-240V, 50Hz/60Hz AC loads. Our proprietary A-Frame steel structures can be skid or trailer mounted and have decades of use in challenging terrain across hundreds of sites on multiple continents. Rated for 110MPH sustained windspeeds per ASCE and IBC.
These modular units can be scaled to meet the demands of larger loads. Structures are corrosion resistant, fit our enclosures, come in a compact footprint, require minimal site-prep, and will withstand heavy snow loads.
Hybrid systems are typically used when low winter solar resources or space constraints make stand-alone solar systems impractical or expensive. In some critical applications, multiple power input sources may be desired for redundancy or reliability. Systems can support AC or DC loads of nearly any size. Trust the experts to design, program, and build your next project!
Our solar engineering expertise includes generators (diesel and propane), fuel cells (PEM and SOFC), thermo-electric generators (TEGs), and wind turbines for micro-grids or as secondary energy sources.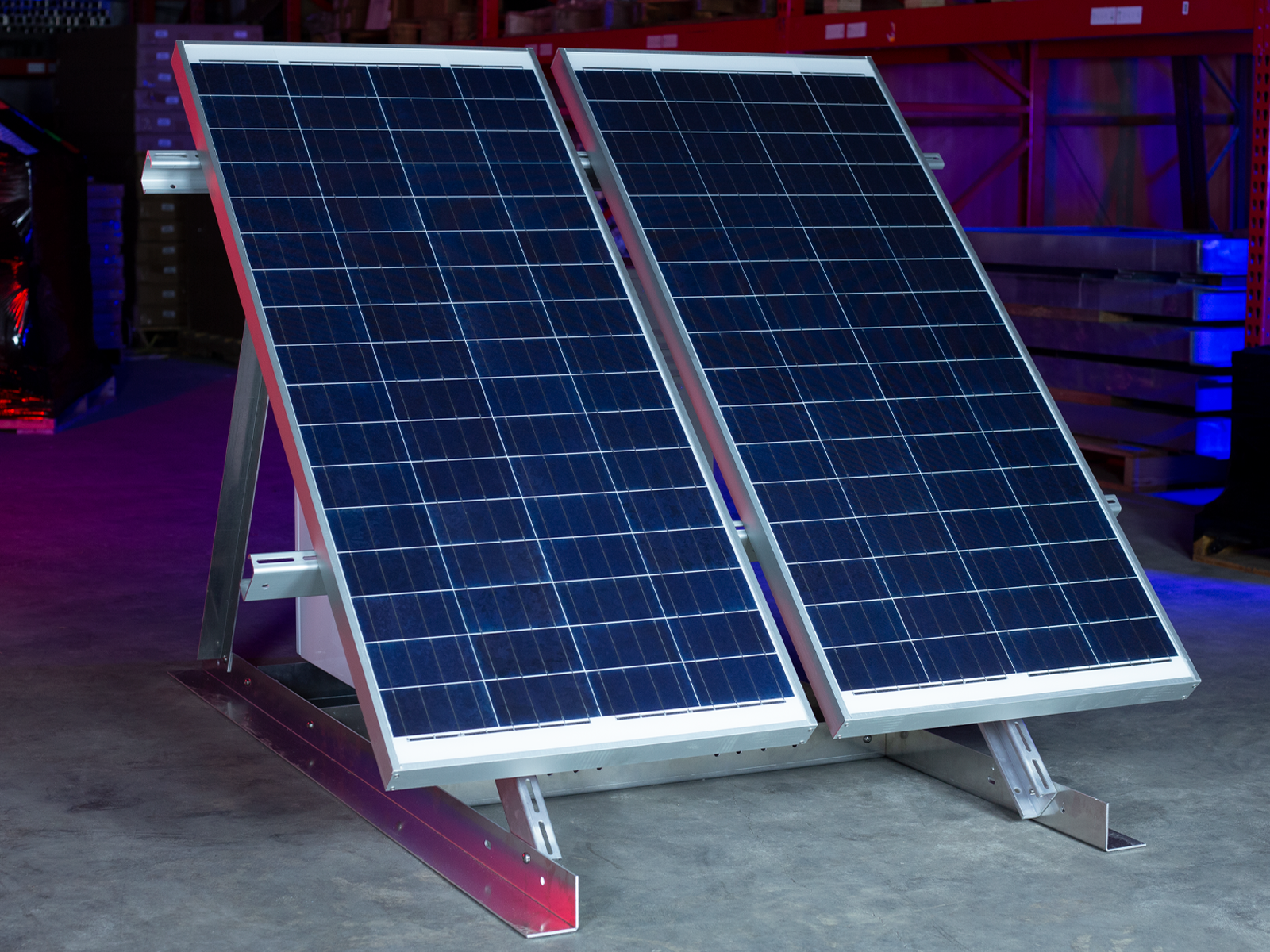 SunWize offers several different options for applications where the ability to quickly deploy and move a system is critical. options available up to 700 Watts.