Power Ready Off-Grid Solar Systems
SunWize Power & Battery Power Ready Systems are stand-alone off-grid solar power systems that provide continuous and reliable power to remote site loads. There is no need to connect to utility power. SWPB Power Ready systems are designed for site loads requiring 12, 24 or 48 volts DC or 110V-240V 50Hz/60Hz AC. The systems provide uninterrupted power to the load with a power reliability of 99.5% worst case month based on weather and insolation data specific to the site. The battery is designed for 5 days (120hrs) of autonomy based on average low temperature. All systems are pre-assembled and factory QC tested in our ISO-9001 manufacturing facility.
Complete System Solutions
• Designed by SunWize solar engineers to provide power 24 hours a day, 7 days a week.
• Easily integrated into your project
• Assembled and factory tested in the USA
• Robust packaging for transport to rugged locations
• Simple electrical connections in the field
• System stocking strategies available for fast turn-around shipping
Key Features & Benefits
• Meets your equipment electrical power requirements
• System load verified for voltage tolerances / duty cycle of operation
• System design verified for performance / reliability / function
• Geographic location analysis provided
• Standard product line flexibility allows customization
• Cost-effective design maximizes space efficiency
• Solid state electronics
• UL, FM and CSA listed components
• 20/25-year solar module warranty
• Full system warranty for one year
• Pre-assembled for easy installation
• No environmental impact
• Low operating and maintenance costs
• Complete systems reduce specifying and buying time
---
Powering LI-COR and VCU Environmental Monitoring Research!
---
 RTU/SCADA
 CCTV
 Lighting
 Surveillance
 Access Controls
 Signal Equipment
 GPS
 Fence Charging
 Cell Towers
 Relay Networks
 Work Zone Cam
 Construction Cam
 Cellular Repeaters
 Microwave Backbones
 Military Communications
 FAA Lighting
 Message Boards
 Traffic Control
 Well-head Pumping
 Call Boxes
 Two-way Radio
 Telecom Networks
 Water Pumping
 Environmental Monitoring
 Traffic Monitoring
 Positive Train Control
 Seismic Monitoring
 Ground Water Monitoring
 Navigational Aids
 Border Security
 Kiosks
 Perimeter Security
Environmental Specifications
Ambient Temperature
-30°C to 50°C
Relative Humidity
100% condensing
Altitude
3000m max
Wind Speed
110MPH sustained class C exposure
Seismic
Zone 4
Electrical Specifications
Operating Voltage Range
12V up to 48VDC nominal
Array Current
1A up to 40A
Load Current
0.1A to 30A
Temperature Compensation
Standard on all models
Array Wattage

10 to 1200 watts
Battery Capacity
20 to 1060Ah
Main Power Ready Subsystems
The System
• Provides uninterrupted power to the load with a power reliability of 99.5% worst case month based on weather and
insolation data specific to the site.
• Engineered for 5 days (120hrs) of autonomy based on average low temperature.
The Solar Modules
• Include conduit ready junction boxes
• 12V off-grid (C1D2 or non-C1D2) and 24V large format modules available
• Impact resistant for 25mm hail at terminal velocity.
The Solar Mounts
• Rated for 110MPH sustained windspeeds, 133MPH gusts, Exposure Category C per ASCE 7.05
• Side of Pole, Top of Pole, Roof Ground Mount, Skid Mount, Trailer Mount
• Single Arm, Double Arm, 12V off-grid racking, 24V large format racking
The Batteries
• Designed for solar applications in deep-cycle operation
• Battery life rated for greater than 500 cycles to 80% DOD. Total battery life varies with application temperature & load
characteristics.
• Maintenance free and require no watering or equalizing charge.
The Controls
• Low voltage load disconnect, factory set for the battery type and system voltage used.
• Low voltage disconnect is set standard at 80% battery depth-of-discharge.
• Standard controls up to 20A are sealed, Class I, Div II rated.
Protection and Safety
• NEC compliant circuit protection.factory set for the battery type and system voltage used.
• Finger safe terminal blocks and covers on all switches and breakers.
• All wiring is routed in liquid tight conduit for protection from damage and the elements
---
---
---
---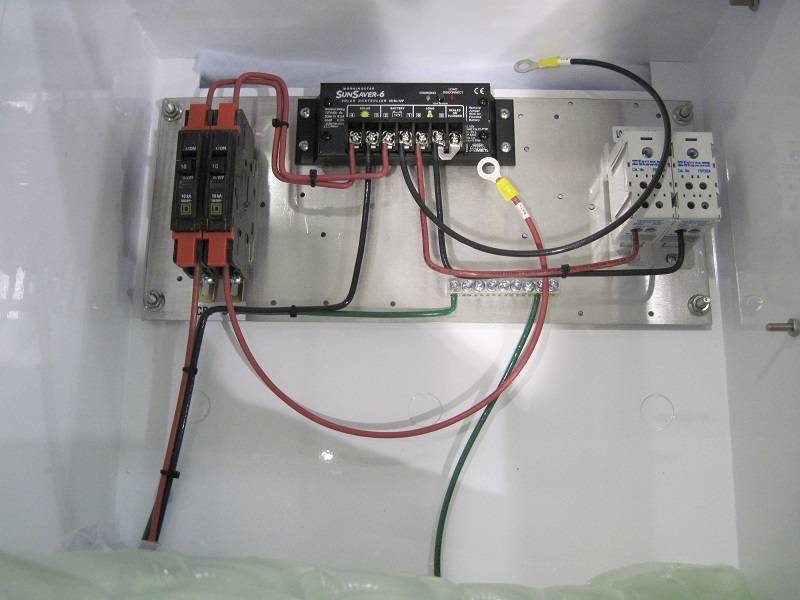 ---
Example: PR-240-24-108-FPWA-111
Array Power (Watts)
System Voltage: 12 Volts / 24 Volts / 48 Volts
Battery Capacity in AmpHrs (based on 120hr discharge rate)
Enclosure Style
F – Front opening hinged door, pole mounted
T – Top opening hinged door battery enclosure, ground mounted
C – Front opening door, captive screw cover, mil-finish aluminum, pole mounted
Structure Style
P – Side of pole mount, separate from enclosure
G – Ground/roof mount, separate from enclosure
T – Top of pole mount
I – Integrated mount (5 – 20W only)
Enclosure Finish
W – Powder-coated white aluminum
A – Mil-finish aluminum
S – SS-304 stainless steel
F – Reinforced fiberglass
Structure Finish
A – Mill-finish aluminum
P – Powder-coated finish
G – Hot dipped galvanized
System Standard Options (choose one of each):
Wire Protection
0 – PV direct to controller w/in-line battery fuse
1 – DC-rated circuit breakers for PV & battery
Lightning Protection
0 – Default surge protection
1 – External surge arrestor 125VDC
Load Distribution and Control
0 – Load wired directly to controller
1 – Four terminal load distribution block
2 – Four terminal load distribution block, w/DC-rated circuit breaker
3 – External multi-cycle load timer, w/DC-rated circuit breaker
4 – Integral controller, w/multi-cycle load timer w/DC-rated circuit breaker
5 – Dusk-dawn sensor, w/DC-rated circuit breaker
6 – Dusk-dawn sensor, w/external multi-cycle load timer, w/DC-rated circuit breaker
Why SunWize?
Proven solution : Solar has successfully powered thousands of critical applications worldwide for more than 20 years.
Reliability : SWPB systems allow your equipment to operate where power quality and reliability are a concern or where utility power does not exist in the most rugged environments.
Cost-effective : SWPB systems are cost-effective solutions providing continuous power to critical loads. SWPB systems minimize set up and installation time for rapid deployment.
Installation flexibility : SWPB systems can be mounted to pole sides and tops, rooftops and the ground. They can also be adapted to towers and other structures. OEM equipment can be housed in weatherproof enclosures in remote locations.
Shipping and handling: SWPB Systems are designed to withstand rugged transportation to remote sites. Each subsystem is fully assembled and factory tested before shipment.